The Situation 
Welcome back to another case in point, where we celebrate our success stories, while showing the world what we're capable of delivering. In this edition, we prove that UK manufacturing is both fast and reliable, helping a moving and handling company who design and create hydraulic tools to help improve communities and municipalities.

We've been working with this company since 2018, yet another repeat customer. They deal mainly in, hydraulic manhole lifting devices. Simply put, they use equipment and machinery to remove manhole covers in a practical and safe way, drastically lessening the chance of injury.

Throughout our 4 years working together, we have been supporting their products with our in-house rubber moulding capabilities. We conduct business in the same region, so our operations are fairly close to one another. This saves us and our customer time and money with regards to shipping and sample checking. They can come by and pick up their order at any time. 

Like us, our customer has been in the field for a long time, 40 years to be exact, and they have been honing their craft and developing quality tools and mechanical devices for the construction and drainage industries. They have built up this reputation and are now manufacturing for both the public and private sectors. Their designs are sought after by many companies nationwide.
What was the problem? 
Our client required a rubber component for one of their many mechanisms, this being a manhole cover lifting device. This is a component comprised of rubber bonded to a steel plate. Rubber moulding is a complicated process and requires specific tools and expertise that we have. We were happy to help once they called in for their usual order, they came back because we have been offering exemplary manufactured rubber since we started our business relationship 4 years ago.

The tooling company uses rubber, as it provides a strong base for the device and is able to handle the weight from heavy loading. For this application, the rubber spec they needed was 70 shore A, EPDM rubber. This shore hardness is high up on the durability scale which is as hard as a standard car tyre or a shoe sole.  To give you an idea of how shore hardness works below you can see the scale and where certain materials fit in.

In-house we would mould the 70 shore A rubber extrusion to a steel plate issued by our customer. This would then be used as a foot or stand for their manhole cover lifting apparatus.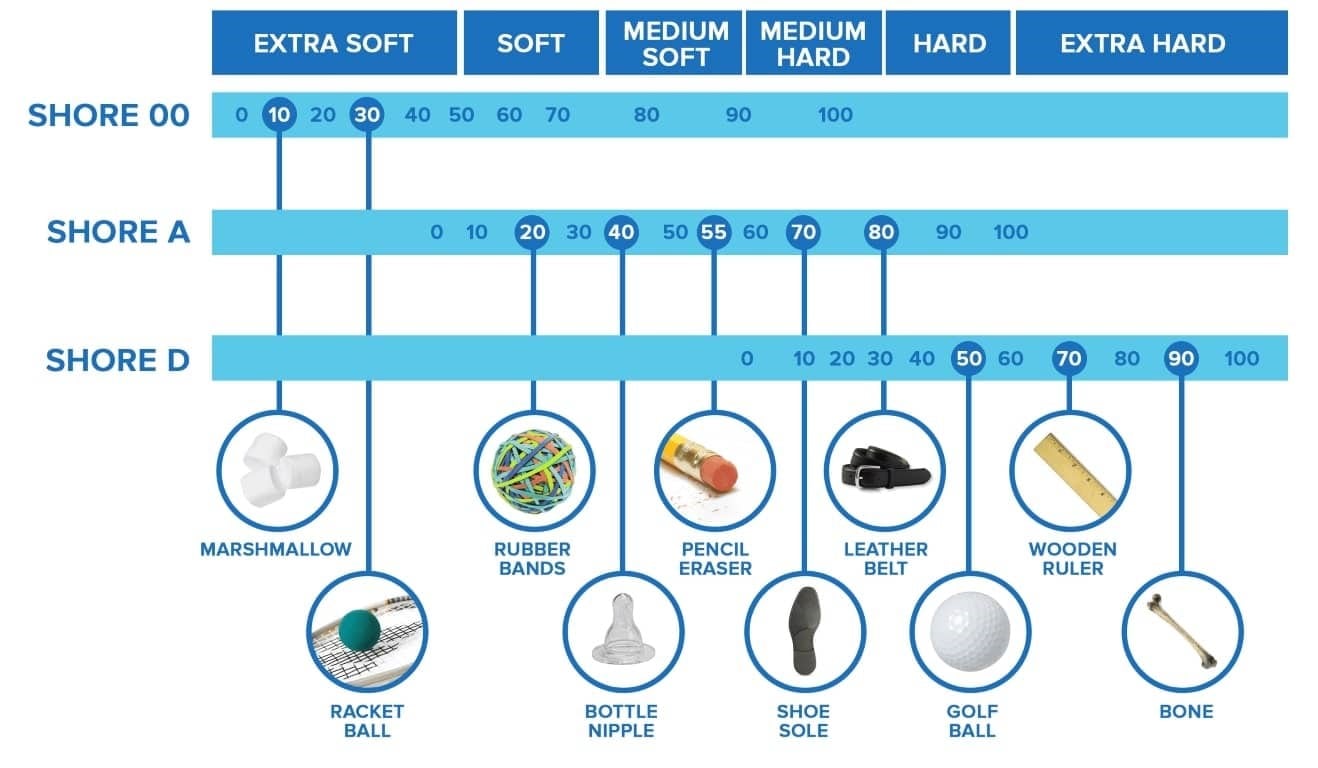 How was the problem solved? 
Once we received the order, our customer issued us 100 steel plates for us to bond the EPDM rubber to. After extruding the rubber we then cut it to size up with the steel plates. In this process we don't use the autoclave but instead we use the moulding press which can reach up to 120 degrees which is more than enough to vulcanise the rubber and bond it to the metal in the process.

This is also known as compression moulding. Once the bonding was complete, it was a matter of repeating the process until every plate was rubber bonded. During the process, once the bonded plates had cooled down it was a matter of cleaning them and making sure there were no stray pieces of rubber. Our process enables us to bond around 100 plates a day, so it's a time-consuming task for our guys out in the factory.

The manufacturing process ran like clockwork and everything was ready for collection at the approved time. Our customer then would take the order, weld a nut to the plate and then paint them in their corporate colours, after which they would be assembled to the manhole cover lifting device.

We received high praise from our repeat customer who stated that our components are "always of a consistent quality" which is courtesy of being in complete control of our manufacturing processes. We're proud of our workforce and our company reputation. Our customer orders from us every 6 months, so we're looking forward to working with them again.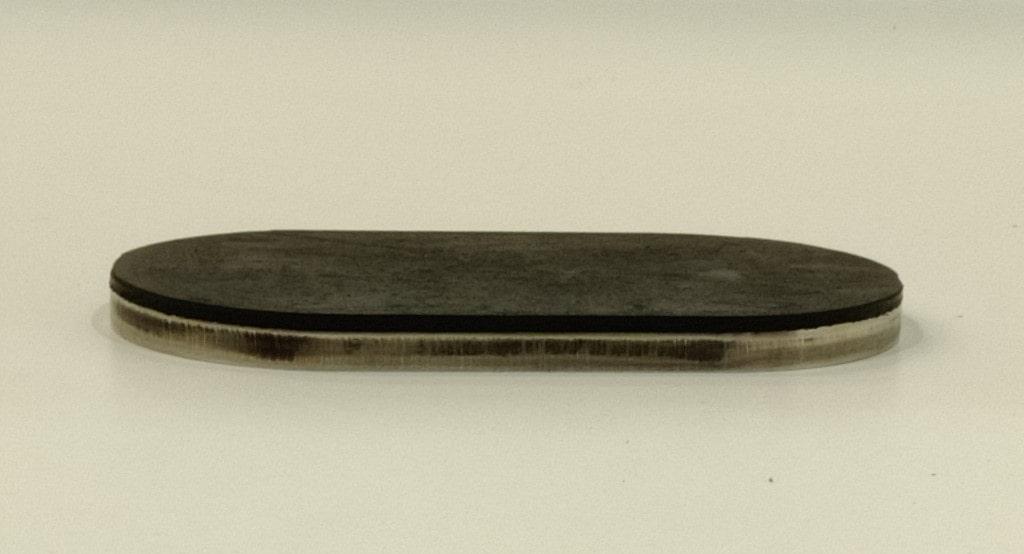 Final Thoughts 
We were approached by one of our repeat customers with whom we've been working for several years. This company needed our assistance in preparing a foot or stand for their manhole cover lifting equipment. We were more than happy to oblige. This was slightly different to our usual rubber jobs as we needed to bond metal to rubber using a moulding press, bringing our UK manufacturing processes to the forefront.

Our customer issued us with 100 steel plates, we extruded the rubber and cut it to size then bonded the two materials using the moulding press. Once this process was complete the rubber bonded plates were cleaned up and packaged, ready for collection. The process was seamless, and the order was ready on time.

Rubber to metal bonding is something we are always capable of doing. If you're in need of anything within the realms of this, then please get in touch we'll be happy to help you.  

If you're interested in or need our rubber moulding capabilities, then please contact us. Our sales team are eagerly awaiting your enquiry.

This has been another case in point. We are Walker Rubber, and we'll see you at the next one.