At Walker Rubber, we supply the marine industry with a wide array of custom-manufactured rubber parts. Predominantly, we provide independent customers and businesses with bespoke marine rubber fendering - so that they can equip their boats for maximum protection and increased longevity. 
Our premium fenders and wall buffers are cost-effective and efficient solutions to suit a multitude of operating environments. With that in mind, our products can be tailored to a wide variety of vessels. When looking for the perfect rubber fender suppliers, you needn't look anywhere else.
In this post, we'll explore our marine industry specialism in detail. From our experience within the industry, the bespoke products we can produce and how we can help meet your needs and requirements. 
We'll cover: 
Our Marine Industry Specialism 

Our Experience Within the Industry

How We Can Help You
Our Marine Industry Specialism
As mentioned, we work alongside many independent customers and businesses throughout the marine industry - supplying them with custom-manufactured rubber parts. Marine rubber fendering is a robust, durable product that can be applied to boats and the dockside to ensure maximum protection. 
Not only is it built to last, but it's also easily installed and replaced too. Therefore, should you recognise damage or wear and tear on your current fenders, you can easily replace them with brand new products to ensure maximum performance levels. Keeping on top of the condition of your fendering ensures the longevity of the product and your boat too. 
Our Experience Within the Industry
Established over 80 years ago, we've provided bespoke products into the marine industry and developed our specialism throughout. We've earned a trusting relationship with many independent customers and businesses within the industry. With that being said, we're now their go-to rubber specialists for custom marine products.
Within the industry, we work closely with tug boats, leisure yachts and day cruisers. Of course, all boats need protection from fendering, otherwise, they'll be vulnerable to damage and time out of the water. This shows the flexibility that our bespoke products provide and our capability of easily meeting the needs of any vessel. 
For example, tug boats are designed to collide with other vessels and push or pull them into their desired position. When regularly colliding with other boats - which a lot of the time are much bigger than themselves - they need adequate protection from fendering so that any damage doesn't occur and they can do their job efficiently. 
Whereas, leisure yachts and day cruisers don't need the same level of protection but will need protection for docking and rubbing against other boats. Plus, they may prioritise the aesthetics of fendering, rather than applying a mismatched product on a nice looking boat - they won't want to tarnish their image. 
While these are our main customers, we're capable of meeting the needs of any rubber fendering requirement. Our expert team are vastly experienced within the industry and are always capable of achieving accurate results and excellent outcomes.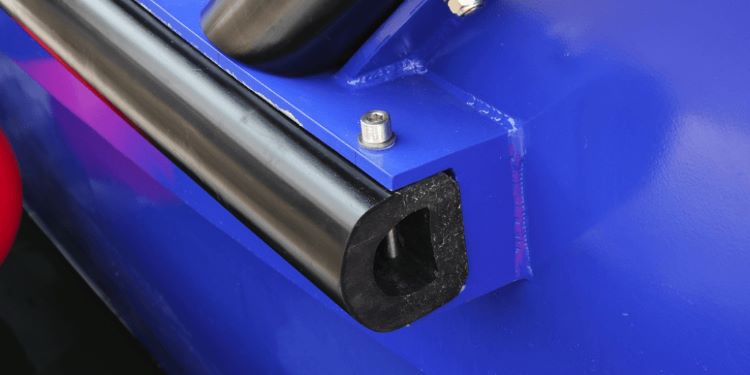 How We Can Help You
Bespoke Manufacturing Methods
With boat fenders and wall bumpers, there's no one-size-fits-all approach that works across the board. Just because one method works for similar boats and mooring conditions, doesn't mean that it'll necessarily work for you. For the best performance and maximum protection, you need fendering applications that are completely customised to your unique needs and requirements. 
As mentioned, we're experienced in working alongside a wide range of vessels and mooring conditions. Therefore, we have the knowledge and expertise to accurately advise on adequate fendering types and levels of protection. We recognise the importance of utilising bespoke fendering applications - and the valuable benefits that they provide. 
High-Quality Materials and Products
At Walker Rubber, our custom-made products are manufactured from high-quality materials. With marine rubber fendering, you need to ensure that the products you're investing in are high-quality and will provide a perfect level of protection. Should you invest in low-quality products, again you'll be left wide open to impact damage and will likely need to reinvest. 
Our innovative, high-quality products are durable and made to last. When using Walker Rubber for fendering applications and wall bumpers, longevity is guaranteed - providing that you regularly check and maintain your fenders, that is. Long-lasting products are cost-effective in the long term and are the perfect choice for keeping overall running and repair costs low. 
Excellent Reputation and Customer Service
Our excellent reputation and integrity mean everything to us - we're incredibly proud that we're regarded as rubber specialists and experts within a broad spectrum of industries. Within the marine industry, we've built up a loyal customer base and are held in high regard by many businesses. 
At Walker Rubber, we pride ourselves on our first-class customer service and timely turnarounds. No matter how big or small each project is, every customer is treated with the same professionalism and respect. All orders are dealt with efficiently and turned around quickly - with no compromise on overall quality, of course.
For High-Quality Marine Industry Products - Choose Us!
As you can see, the marine industry is one of the key industries that we operate in. We've worked alongside many independent customers and businesses - and no bespoke manufacturing project is yet to beat us. This shows our versatility and our ability to lend our hand to a variety of projects. 
We're able to help customers throughout the UK - so, whether you're a small boat owner or own a towage and workboat business, we're here to help you. After all, all boats need protection through fendering. 
To find out more about marine rubber fendering, we've created a FREE guide. It includes everything you need to know - from the different types and applications, comparisons of manufacturing methods and more. However, we're just adding the finishing touches - it's coming soon! 
In the meantime, or if you're ready to have a further conversation with our expert team, please don't hesitate to contact us. We're always on hand to answer any questions or queries that you may have. We look forward to hearing from you.