Rubber extrusion is a manufacturing process that involves turning rubber materials into specifically shaped products for their desired purpose - noise control, sealing, vibration, impact protection and decorative trim. This process has been utilised by many industries, since as far back as the 19th century. 
Rubber extrusions allow for varying levels of customisability and yield a vast array of products with superior strength and extreme durability. Not to forget, rubber extruded products are also highly resistant to an array of extreme conditions. 
But how are they made? What are the benefits? And what are their suitable applications? We're going to cover all you need to know about rubber extrusions and the specific profiles in this post. We'll also explore our industry specialism since 1941.
We'll cover:
The Benefits of Rubber Extruded Products

How Rubber Extrusions Are Made

Different Extrusion Material Range

Rubber Extrusion Applications 

Rubber Extrusion Experts Since 1941
The Benefits of Rubber Extruded Products
There are several benefits of the rubber extrusion process and rubber extrusion products.
The rubber extrusion process is an efficient and economical way of producing rubber extruded products and the volume of waste is typically very minimal. The rubber extrusion process allows for a continuous process of finished products in varying lengths, shapes and bespoke specifications.
Rubber extrusion profiles are lightweight, flexible, extremely durable and long-lasting. They're great for applications that are open to the elements and they're robust enough to be used in a myriad of harsh or extreme conditions. Some rubber extrusion profiles are also highly resistant to chemicals, heat, cold, ageing, friction and abrasion.
Another benefit of rubber extrusions is that they are suitable for a large array of industries. These include Marine, Construction, Agriculture, Aviation and Baggage Handling, Engineering, Dredging, Food, Logistics, Mechanical Handling, Metal Fabrication, Mining and Metals, Energy and Automotive. Meaning, there's certainly going to be a rubber extrusion profile suitable for every business no matter how big or small.
Depending on the supplier you choose will also determine the limitations you have with rubber extruded products. However, manufacturers that have the capabilities, experience and expertise are typically responsive enough to meet the desired targets and expectations. Allowing them to meet any bespoke specifications required, without any compromise on quality. 
At Walker Rubber, we use our skill, knowledge and expertise to extrude parts that can be used for a wide range of industries. We offer cost-effective samples, have over 2,500 profiles available and create everything in-house - manufacturing, design and delivery. We're responsive and our specific formulations are available to meet almost any requirement.
How Rubber Extrusions Are Made
The rubber extrusion process is a manufacturing process that forces rubber through a die of the desired cross-section under pressure from an extruder. Once the warmed-up synthetic or natural rubber material is through the shaped die, the material will take on a sectional profile and shape. 
Once the rubber has been extruded, it then needs to be cured (a process similar to cooking, in a pressurised, high-temperature chamber called an Autoclave). This is an essential part of the process for the products to be durable and usable. Once cooled, rubber extrusions maintain their shape so they can be coiled and ready for shipment.
Again, when it comes to choosing your supplier there are many specifications to consider. One being, the rubber extruded process they follow. At Walker Rubber, we use high-precision equipment here in our Norwich factory.
We offer a high-quality, durable and dimensionally stable process that has had YEARS of refinement. Our vast experience and expertise enable us to meet the appropriate tolerances and physical performance demands of every application. Of course, we'll explore this in more detail later on in the blog post.
Different Extrusion Material Range
There are a variety of extrusion materials to choose from - each offering different functionalities and benefits. Whether you're looking for a high-performance material or low mechanical properties - we've got the solution for you at Walker Rubber.
Our range of extrusions includes EPDM, Neoprene, Nitrile and Natural. We also offer Silicone extrusions, Viton and coloured options of Neoprene and Nitrile. 
EPDM rubber extrusions prove to be the most popular material choice for an array of businesses and industries, and it's clear why. EPDM is recommended for most external applications - those that will be exposed to the elements including sunlight. It has a long life, it's robust and is UV and ozone resistant. EPDM can also be used at high temperatures up to 135°C.

Neoprene (PCR) extrusion profiles are great for applications needed for general industrial use. This material has one of the highest usage temperatures of 110°C and has chemical resistance to many substances - water, diluted acids, certain solvents, mineral oils, fats and numerous industrial chemicals

Although silicone rubber extrusions have comparatively low mechanical properties - they are smooth and have excellent temperature resistance up to 200°C. Not forgetting, silicone is also ozone, UV and weather-resistant, which means it is suitable for an array of applications. If you're looking for a material that's suitable for food production and pharmaceuticals, silicone is a perfect choice - it's durable and has low flammability too.

Viton extrusions are manufactured using fluorine-containing rubber - high-quality and resistant to several chemicals including concentrated acids and alkalis. This material has some incredible properties in comparison to other rubbers featured. Where some rubbers may have limitations with durability and chemical resistance - Viton ticks these boxes considerably well.
At Walker Rubber, we can supply extrusions approved for many uses and manufactured from an array of suitable materials depending on your bespoke requirement. Whether that's utilising existing profiles or developing and designing new profiles - we'll manufacture any bespoke requirements with no compromise on quality.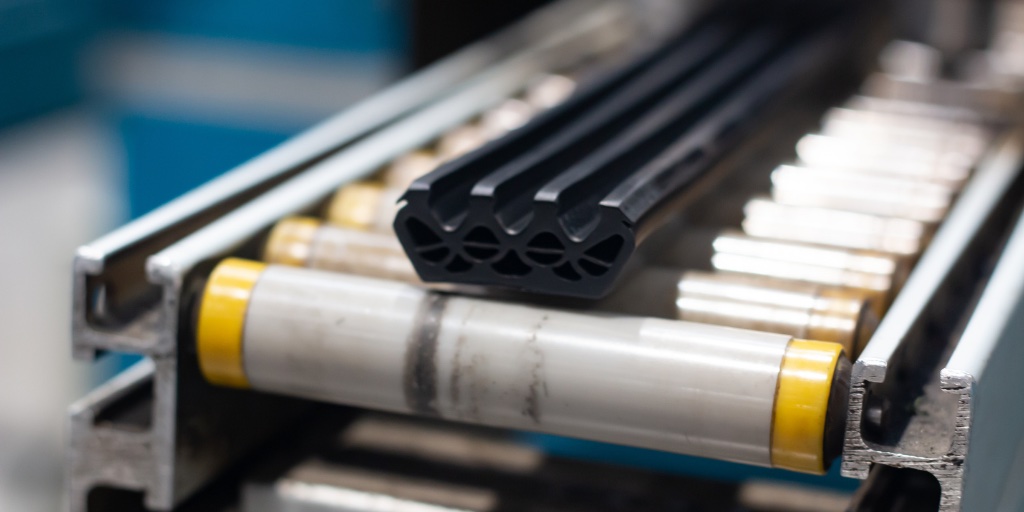 Rubber Extrusion Applications
We offer an extensive range of rubber extrusion products, suitable for all applications. 
However, our capabilities are not limited and neither is our catalogue range. If we don't already have something you're looking for, we can take your design and produce your ideal extrusion product in 10 days - right here in our UK factory. From design straight through to completion.
Some of the extrusion products we regularly manufacture are:
We also offer the choice of solid or hollow D sections, B sections (also known as double D sections), both of which are the perfect fit for protecting anything you might need to. We can also add a self-adhesive surface to facilitate easy installation if required.
Rubber Extrusion Experts Since 1941
Since 1941, we've been experts in all areas from rubber manufacturing to extrusions and fabrications, mouldings, stock-holding and component sourcing. We custom manufacture bespoke rubber parts to meet all of our customers' requirements - from CAD files, drawings or samples.
We're equipped with the knowledge and expertise to find a solution for even the most complex of problems. No rubber or plastic manufacturing challenge has beaten us yet. We have the tools and availability to design new profiles too - without any compromise on delivery times and quality.
We offer value for money for increased business efficiency, unrivalled customer experience for streamlined processes and high-quality products providing long-term results. Our 80 years worth of experience positions us as leading manufacturers in the rubber industry. Proving us to be dedicated, customer-focused and knowledgeable.
We source one of the largest ranges of rubber in the UK. Allowing us to lend ourselves to a broad spectrum of industries to provide solutions for bespoke manufacturing needs. Once we've received your inquiry, we may require more information based on your application and custom design, at this point, we'll get in touch with you.
Once we have all the information we need - we'll provide you with a quotation within 24 hours. You can either order new tooling with a rubber sample for you to inspect yourself, or you can let us do the hard work and we can inspect in-house here in the UK. Manufacturing in-house enables us to meet urgent requirements with absolute professionalism and unparalleled accuracy. 
Once you're happy with your sample, we can proceed with the manufacturing and get that bulk order completed!
We Can Help You Meet Deadlines and Increase Your Business Efficiency - Get in Touch!

Now that you've finished reading this post, it's likely that you're more familiar with the benefits of rubber extrusions and the different types and products available. If you're feeling ready to invest in rubber products but you still have some questions that need answering - look no further.
Our expert team helps businesses make smarter decisions by matching the bespoke needs with the perfect manufacturing method for accurate results. The Walker Rubber specialist team is always available to discuss specific project requirements and provide effective solutions. Get in touch with us today!