Boat rubber fenders are available in many materials and styles, but choosing the right one for your cruiser is vital. If you don't select the right fendering application, you're putting your cruiser at risk of damage and many other complications could arise.
Rubber fenders protect the perimeter of a cruiser boat and reduce any impact the vessel may experience when mooring or carrying out challenging manoeuvres. 
But what are the advantages of using rubber fenders? In this post, we're going to explore rubber in more detail and outline the key advantages of using this robust and resistant material.
We'll cover:
Why Should You Consider Boat Rubber Fenders?

The Benefits of Using Rubber Fenders
Why Should You Consider Boat Rubber Fenders?
Marine fenders can be manufactured out of plastic, foam elastomer and rubber - all materials offer positives and negatives. However, you must choose the fender application and material ideal for your cruiser so it can provide optimal protection to the exterior and interior.
Plastic fenders are lower in strength capability and have a moderate impact absorption rate. Because of their moderate absorption rate, impact damage is likely to be greater if plastic fenders are used on cruisers. Depending on the mooring environments, plastic fenders can provide an additional layer of protection if they are used on vessels as well as rubber D section and Double D section fenders.
Cruiser boat owners require fenders that are equipped for longevity. They also need to be suitable for various riverside mooring environments and look aesthetically pleasing around the perimeter of the cruiser. This is where EPDM rubber D section and Double D section fenders work well. 
Out of all fender applications, EPDM rubber fenders provide the highest quality protection for cruiser boats. Rubber fenders are versatile and suit a variety of applications. They provide maximum protection to the boat's hull, cushioning any impact the boat may experience during mooring or a collision. This also reduces the impact onboard passengers experience - keeping everyone safe and comfortable.
The Benefits of Using Rubber Fenders
Customisable
Rubber fenders are completely customisable and they're available in a range of styles, sizes and shapes. No matter what cruiser boat you have, they'll definitely be a rubber fendering option for you.
As an example, D and Double D extruded rubber fenders are fixed to the perimeter of the boat, they come in varying sizes and are available in several colour variations. If you choose a reputable supplier, there'll be many customisations available to suit your cruiser boat requirements.
Soft Reaction Force
Rubber fenders have a soft reaction force that will cushion any impact a cruiser boat may experience during mooring. A soft reaction force will keep passengers comfortable during mooring or in the event of a collision.
A soft reactive force will also preserve the condition of your cruiser boat and prevent any bumps, scratches or holes from occurring. This will reduce the likelihood of any costly repairs and will extend the longevity of your vessel.
Designed for Longevity
Rubber fenders prolong the longevity of a vessel by protecting the exterior and interior of the cruiser boat. In particular, EPDM fenders can typically last for UP TO 20 years.
Most materials lose their characteristics over time, however, EPDM is robust and is highly resistant to degradation in all outdoor and marine applications.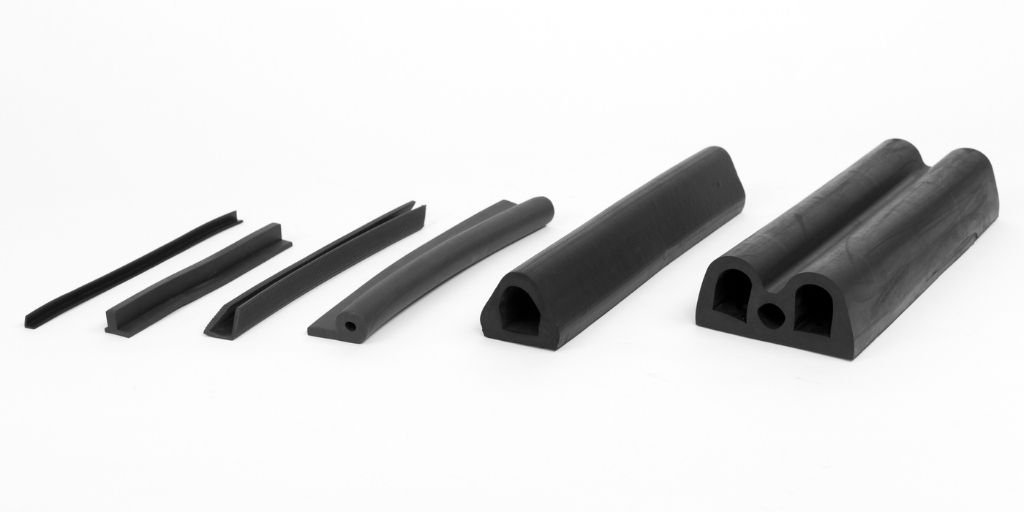 Resistant to Water and UV Damage
EPDM fenders are resistant to water, UV damage and a variety of marine environments. Most rubber and other materials will degrade in the sunshine, however, EPDM withholds its elasticity and robust characteristics no matter what.
Over time, ozone will attack ordinary rubber leaving cracks and holes in the material and increasing degradation levels. Whereas, EPDM rubber fenders won't degrade and they're designed to withstand impact for a long period of time.
Maintenance Free 
EPDM rubber fenders are relatively maintenance-free. As an example, D section and Double D section fenders are permanently fixed to the side of a cruiser. They can be wiped down, but that's all the maintenance they'll need.
They'll only need replacing if they're broken, if the boat is refurbished or if you've had your existing fenders for 10-20 years plus. This means you can travel at your own leisure with no worries - the EPDM rubber fenders will continue to provide all the protection you need.
Preserve the Appearance 
The appearance of your cruiser boat is likely to be of importance to you. After all, it's what your customers see before purchasing and renting. If it's your cruiser that you use for leisure, then the appearance of your vessel should still be of importance - especially if you're cruising along the picturesque man-made broads.
However, preserving the appearance of your cruiser isn't all about the aesthetic appearance of the boat. Rubber fenders prevent either the head or hull of a vessel from colliding with any other water body that could create lasting damage including bumps, rubbing and scratching. The robust qualities of EPDM rubber fenders will ensure the fenders take the impact - not the exterior of the boat. 
To preserve the appearance of your cruiser, rubber fenders are advised. After all, it's easier to replace a rubber fender than repair a hole in your boat or even worse, replace your entire cruiser boat.
An Investment
Although the initial cost of rubber fenders is higher, expertly designed EPDM rubber fenders are a worthy investment. Cheaper alternatives will present multiple complications, including higher repair costs. Don't be put off by the pricing, keeping your cruiser in excellent condition is a priority. 
Discover the Perfect Rubber Fender for Your Cruiser Boat
If you're considering what boat rubber fender application would be perfect for your cruiser boat or you're keen to explore the different options - look no further. In our FREE Ebook, we cover everything you need to know about marine rubber fendering - the benefits, customisations, different types and more.