The D Fender is one of our most popular profiles, D Fenders are manufactured and supplied to the marine and logistic trades where they're used in a multitude of ways. This type of profile allows for maximum protection and is manufactured using a firm rubber compound (EPDM). These bumpers, fenders and strakes absorb forceful kinetic energy and impacts that could otherwise severely damage boats, lorries, marines, loading bays, causing potential issues with long-term structural integrity. In this blog, we'll explore three of the most popular uses for D Fenders.
Dock and Marine Bumpers


This is one of the most common uses for our extruded D fenders. Given the prospective cost implications involved in damage and liabilities, sustained by the impact between expensive boats and marinas, the value of purchasing fenders as an additional layer of protection is a no-brainer. The
Hollow D
fender profile acts as an invaluable buffer between boats and marina walls, jetties and docks etc. absorbing the damaging kinetic energy and impact.
Boat Bumper/Rubbing Strake


As with
dock
and
marine bumpers
, boat-mounted Hollow D fenders can be installed to provide protection against impacts; most notably during moorings and dockings. For maximum protection - and therefore minimal residual damage via impact - having mounted rubber fenders on both the sea craft and docking area/marina is the ideal solution, offering impact protection on both sides.
Internal Warehousing and Factory Impact Protection


Unlike the other noted uses, our hollow D fenders offer excellent attributes for indoor use. In warehousing and other areas in which contact could occur between a machine (such as a forklift truck for instance) and a fixed/static object (such as a wall or structural steel column etc.), a D fender would provide notable impact protection. In these instances, it's more likely that the moving variable - such as the forklift truck – will incur the damage due to its comparatively lightweight construction and solidity. However, well-placed D fenders will – again – assist in absorbing any damaging impact, caused by contact, ensuring that the machinery remains in good working, and aesthetic, order.



Qualities of our D Fenders Include: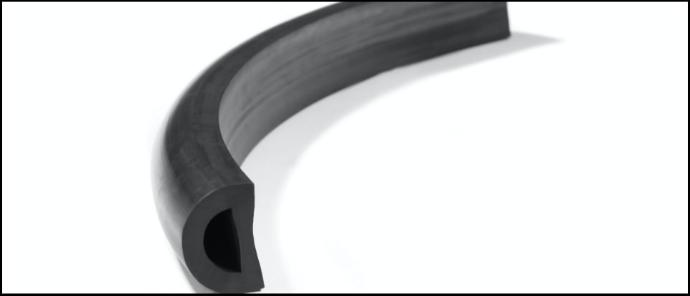 Manufactured in EPDM rubber, often with a 70 shore hardness.
Long-lasting and highly durable.
Temperature range ideally suited for application (from -20°C to over 150°C).
Excellent abrasion resistance and rebound capabilities.
Water resistance and strong resistance to UV, ozone and weathering.
Low-cost when compared to alternatives.
About Walker Rubber
Walker Rubber is a UK based rubber manufacturing specialist, with the ability to create bespoke Extrusions, Gaskets, Mouldings and many other services.

To talk to us about your business's needs, feel free to get in touch.